The Goon - Issue 1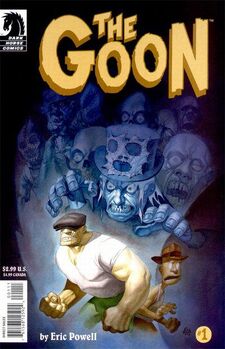 Release Date
June 1, 2003
Creator, Writer
Eric Powell
Penciler, Inker
Eric Powell
Preceded By
Succeeded By
-
Issue 1 is the premiere issue for The Goon under Dark Horse Comics. It is part 1 of Volume 2: My Murderous Childhood (And Other Grievous Yarns).
This summer Dark Horse Comics welcomes creator Eric Powell to the horror line-up. The Goon is a hilarious blend of pulpy horror and slapstick comedy following the ongoing misadventures of the man they call the Goon and his spastic sidekick Franky as they battle the legions of the undead!
Plot Synopsis
Edit
To be added.
Ad blocker interference detected!
Wikia is a free-to-use site that makes money from advertising. We have a modified experience for viewers using ad blockers

Wikia is not accessible if you've made further modifications. Remove the custom ad blocker rule(s) and the page will load as expected.